It's funny the way the mind works.
Finally, only four years after I wrote this blog post discussing possible paint colours we've got a painter in to do the Minx's room.  The comments from you all on that post were REALLY helpful and led me to think of sky blue as a colour for the walls.
Recently though I changed my mind and have asked the painter to paint the ceiling and top part of the wall sky blue with the rest of the walls in a creamy vanilla white. The painter will be finishing that off today and I can't wait to see how it looks. Lots of before and after shots next week.
Today I wanted to share with you a beautiful restoration of an 1890s Greek house that I first came across last October and which seemed perfect to brighten up a dull February day.  I looked at the pictures I'd saved, and lo and behold the house is full of sky blue ceilings!  I swear I wasn't thinking of this when I talked to the painter – I was thinking more of the blue ceilings you see in some porches – but I suspect my brain had just filed it away for future reference. Even more excited to see what the room will turn out like now.
In the meantime enjoy all the summery pretty on the Greek island of Nisyros courtesy of architect and designer George Koukourakis.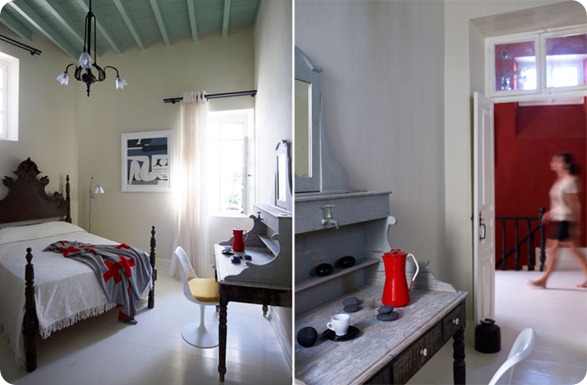 {Photos by Vangelis Paterakis, via Yatzer.com}