So here is the new sofa in situ. It is as comfy as hell, IMMENSELY practical, extraordinarily well -made and we are thrilled to bits with it. Thanks Couch Seattle!
You will note that we've also taken your advice – you were right of course – and bought a new rug for that end of the room so that the coffee table sits on it correctly and moved the green rug to the dining area. We also moved the green curtains to that end of the room to give a bit of colour and raised the curtain pole so that they hang better and give more of an illusion of height.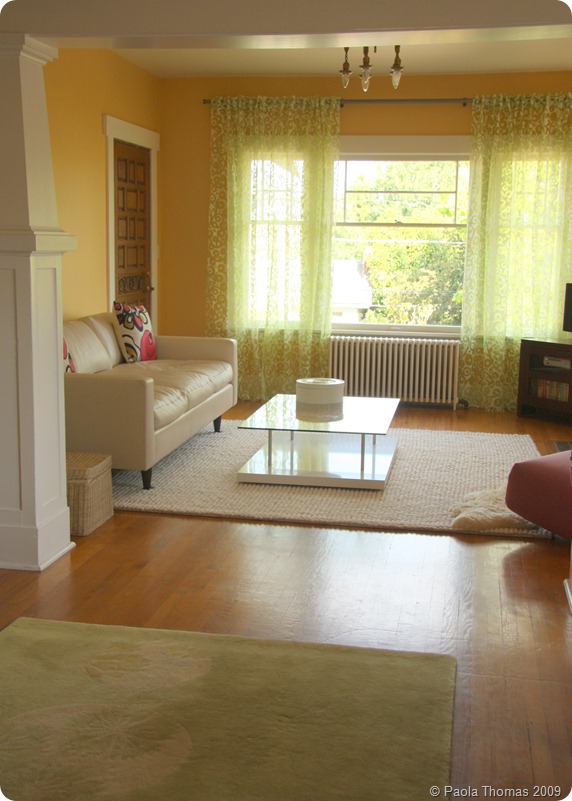 Things Still To Be Done About Which We Need to Talk
– Paint the walls. I have a completely different colour in mind from the last time we discussed this and am going to get samples this weekend.
– Reframe and move the artwork. Commission or buy huge and expensive piece of art (ha ha! – Ed) or at the very least do SOMETHING with the wall above the sofa.
– Replace (or possibly just paint?) the incredibly ugly door on the left which leads straight out onto the porch.
– Do something about the light fixtures, about which we have still done nothing since last we spoke.
– Crochet the sofa a beautiful present.
– Learn how to style photos better and at least smooth down the cushions on the couch before photographing it. 
There is much to discuss and much to do. But we are getting there slowly.
The weather is supposed to be glorious this weekend which I suspect will be the Seattle summer's last hurrah. So we are going to go out and PLAY!