When we were talking paint colours recently (still dithering about that and waiting on a couple of samples) a couple of you mentioned my little Matte Stephens painting, which I picked up when Matte gave his talk at the Lab last year. It was originally intended for the Minx's room, but I've decided that I love it far too much to waste it on her.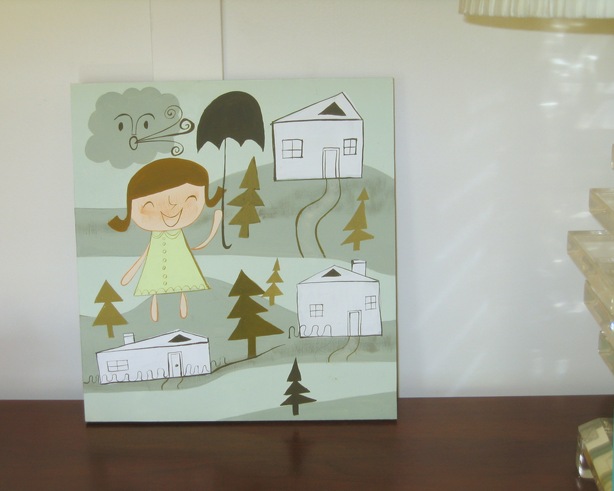 I bought the picture because, although it's supposed to be a picture of Matte's wife Vivienne, it reminds me of the Minx, and the fir trees and umbrella are just SO Seattle.
Those of you who spend a lot of time in the American blogosphere will certainly have seen Matte's work before – much of his talk at the Lab was about how he had been quietly plodding along with his art for years, before becoming something of an overnight sensation, with lots of interesting projects in the works.
However, for those of you who don't know him so well he has an Etsy shop here full of prints, and a blog here. You can also buy original works here at Velocity. And as of today he is giving away these three new pillows on his blog.
I hope you appreciate how much I love you, as by telling you this I am severely impacting my own chances of winning.
Here's Matte and Vivienne at the Lab last year
Just updating to say that, just in case you're not lucky enough to win, the pillows are on sale at Urban Outfitters at a very reasonable price.