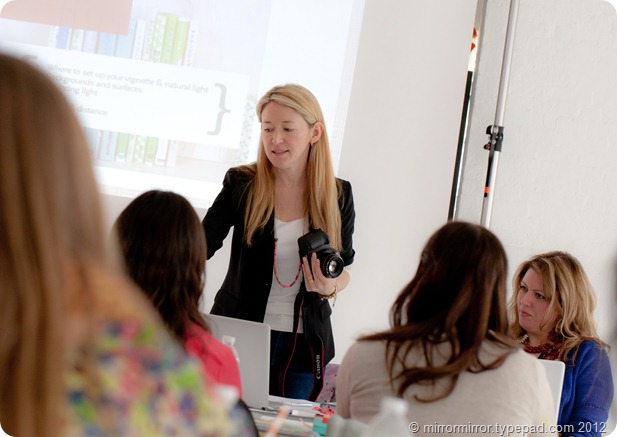 Day two of the Blogging Your Way workshop (other pics here and here), found Leslie Shewring from A Creative Mint taking her day in the sun (quite literally as the sun came out in New York after two days of Seattle-like torrential rain).
After hearing Leslie's inspiring story of clicking with Holly online and subsequently striking up a great blogging and teaching partnership, we settled down for a day of more practical creativity.
The biggest thing I took away from the workshop is that styling is ALL about telling stories in an image.
Whenever I'm styling something I know I always look at the colours and shapes first, forget about the mood or story I'm trying to convey, and then wonder why the image seems flat and dead. I can be very dense sometimes. Of course, it's all about the storytelling. Well, duh.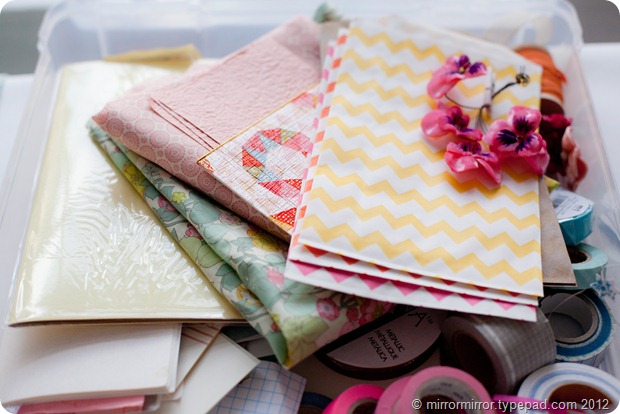 Leslie showed us how she pulls together inspiration boards to figure out moods and colour schemes. She's just one of those people who can instinctively pull together a bunch of random stuff and magically turn it into a coherent and pleasing whole.
It does help that she has some great props – she gave us lots of sources for what she called 'curated hoarding'. This was the second most useful thing I learned at the workshop. Now I can explain to the Husband what I'm doing when he complains about the crap on my desk.
We then talked about composition, lighting and the basics of photography and Holly gave us a ton of tips about styling and photographing interiors. Then for the rest of the day we had time to play ourselves and make the most of the lovely light at Divine Studio and Leslie's pretty props.
Here's a little 'inspiration board' I pulled together, with things I'd pulled off my desk at home.
And here are a few shots I styled and photographed of the beautiful food. Can you see what stories I'm trying to tell?
Leslie encouraged us to explore our subjects from lots of different angles to find the best composition.
At the end of the day we all had fun taking pictures of all our new-found fri ends. Of course a huge part of the value and pleasure of doing these sorts of events is meeting a ton of inspirational and creative women. New friends include Tina, Audrey, Michele, Natalie and Gretchen, Jessica, Ashley, Amanda and Fiona (seen below, who'd flown in all the way from England). Also special thanks to Marianne, for being the most charming and easy-to-live-with roommate one could wish for. I highly recommend taking a stroll through the links above, you'll find some super charming and talented women and some new and fabulously inspirational blogs.
And once more a HUGE thank you to Holly and Leslie. You ladies rock SO hard.
The simple crepe paper hangings Leslie had put up made a great back drop for photos.
One day I'll have a picture taken with Holly where I'm not looking either blurred or deranged (See also San Francisco pics).