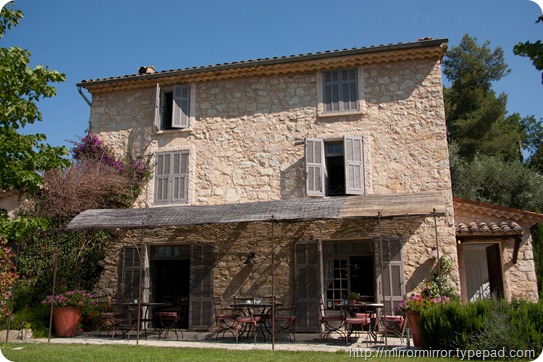 On this particular trip we didn't set out to stay in fancy boutique-y hotels  – our criteria were mostly cost, space for us and the Minx and proximity to beautiful locations, but we really lucked out with the first hotel we stayed in, booked at the very last minute through Splendia, a website specialising in characterful hotels.
The Hotel du Clos is in the little postcard-perfect village of Le Rouret, about 15 minutes from Grasse and 25 minutes from Nice and the bustle of the Riviera, and so a perfect place to relax after our long transatlantic flight to Nice (via Amsterdam).
The hotel – and this is the reason I loved it so – combines the very best in traditional French charm and style with the odd touch of whimsy here and there, which made everything seem lighthearted, modern and fun and added oodles of character. Though frankly the buildings were so beautiful that additional character seemed almost unnecessary.
The rooms are each individually decorated, the staff were absolutely delightful and extremely welcoming to the Minx, and the same people who own the hotel also own a fabulous Michelin-starred restaurant, five minutes away in the village. So, I really can't recommend this one highly enough.
The bedroom featured the most beautiful fireplace and was  decorated in those overlapping shades of dove grey that the French do so well.
  I loved the wall sticker of 'books' stacked up on the bedside table
the Roman faces fabric on the cushions and curtains
and the Perspex angel light fitting above our bed (with another angel peeking out in the bathroom).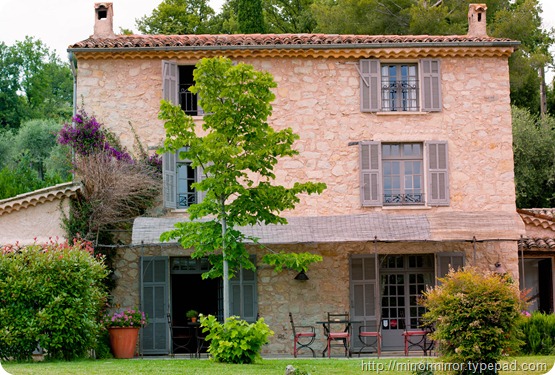 The traditional Provencal garden – fragrant with roses, jasmine and lavender -  was a big hit with a certain someone, who particularly loved the fabulously UNtraditional sculpture lurking among the olive trees.
We ate epic breakfasts every morning on the beautiful terrace
– the fromage blanc with rose syrup was a particularly big hit.
In the mornings when I woke early through jetlag, I would knit on our balcony shaded by an ancient olive tree and listen to the sound of church bells and the kids singing in the school next door. 
After breakfast we would head to the small but delightful stone pool, made particularly elegant by the use of very dark green tiles, which made it fit much more naturally into the garden landscape.
And we all appreciated little touches such as the antique jelly moulds used as keyrings (and were sad not to get one of the three bears)
and the papier mache cow in the reception area. 
More photos from the Hotel du Clos, Le Rouret and Grasse, on my Flickr here.
I'm back. Sort of normal service will be resumed, though it's school vacation and a busy time for 'mirrormirror' so other things also need to take priority. I've been missing you though.