Funnily enough one of the things I miss most about England is sheep.  There is something so very quintessentially English and homey and comforting about a windswept hillside dotted with fluffy white blobs – a sight I don't think I've ever seen in America, the land of the cow.
Lamb here is an exotic meat – tucked into a corner of the supermarket at the end of the huge counters displaying every possible cut of beef, chicken and pork, and viewed with some suspicion.  It's rarely on the menu in restaurants, I've never had it served by American friends in their homes, and a waiter once told me that I may not like a lamb dish because the lamb taste might be 'too strong'.
Anyway, I like this story, because it is so very English, so very charming and so very sheepy.  Vegetarians may be aghast to note that not only did sheepbreeder Louise Fairburn make her wedding dress from the fleece of her Lincoln Longwool sheep, but she served lamb from her flock to her guests.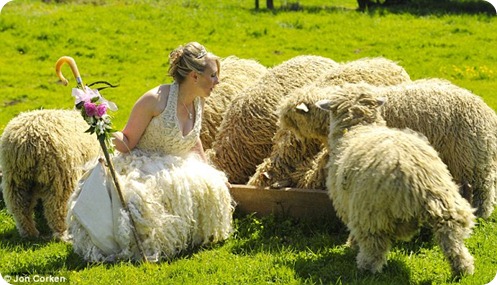 \
Full article here, {via Rose-Kim Knits}