It's been a long and gruelling Jubilee weekend here on the West Coast, with 5.30 am starts on Sunday and Tuesday, and the consumption of rather too much champagne, Pimms and Prince William's favourite chocolate fridge cake.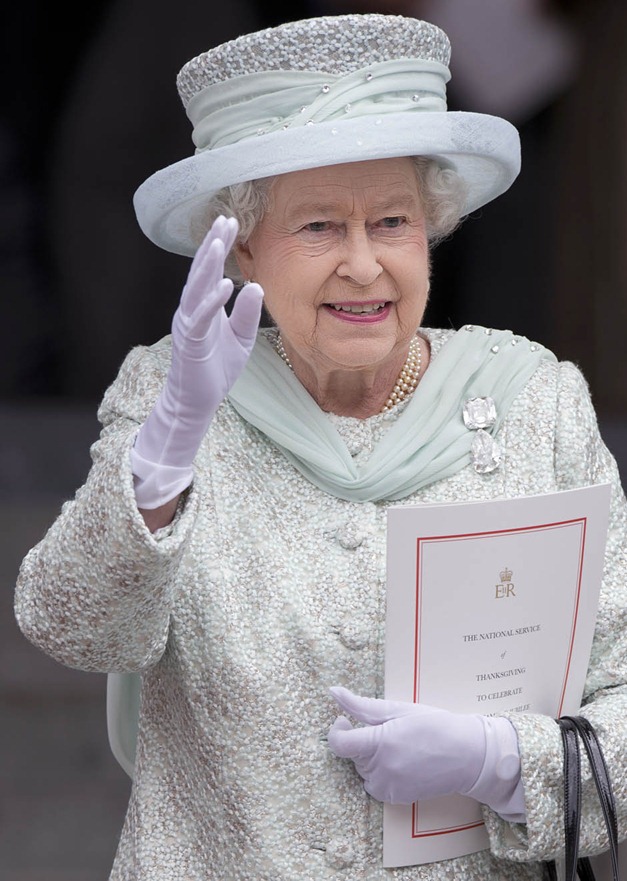 Early yesterday morning I was sitting bleary-eyed on the sofa with the Minx and my friend and fellow monarchist Lilian, being lulled gently back to sleep by one of commentator Huw Edwards' monotonous monologues when the Queen finally appeared looking radiant and very, very sparkly.  Immediately the sofa contingent jerked awake.  What was that utterly stunning brooch the Queen was wearing?
It turns out that, when deciding what to wear for the last day of her Diamond Jubilee celebrations, the Queen recalled that she is the proud owner of the nine major diamonds cut from the Cullinan diamond, the world's largest diamond discovered in South Africa at the turn of the 20th century and presented as a birthday gift to Edward VII (at the risk of sounding churlish, why don't *I* get gifts like that?)
Inexplicably she declined to wear either the Imperial State Crown, which contains the Cullinan II diamond or sit in her carriage waving her sceptre which contains Cullinan I, the Star of Africa, the second largest cut diamond in the world. 
Instead, and obviously as some sort of austerity measure, she made do with wearing the brooch made from the Cullinan III and Cullinan IV diamonds, a mere 94.4 carats and 63.3 carats respectively and conservatively valued at some $120 million.
Wouldn't you be just terrified parading round the streets of London wearing that? Fortunately we were spared the sight of her Majesty crawling around the floor of St Paul's on her hands and knees looking for the brooch she'd just dropped under her seat, which is undoubtedly what would have happened if I were Queen.
It is an utterly amazing brooch though, with an almost contemporary appeal in its stark simplicity – these diamonds don't need any fussy curlicues or smaller stones to enhance them, unlike many of the Queen's other diamond pieces.
You'd be smiling too if you had that brooch
And I loved how the Queen's beautiful outfit of palest mint green was designed to show it and her off to the max – the heavy embroidery, crystal beading and contrasting soft chiffon drapery were exquisite and it was so refreshing to see an eighty six year old looking every one of her eighty six years and yet still be stunningly beautiful. The shoes were of course dreadful, but we can't have everything.
For future reference, just in case you find something similar in your back garden, this is what the uncut Cullinan diamond looked like before it was divided into the 9 smaller cut stones. Apparently it was initially tossed out of the window at the mining company where it was found, because no one believed it was possible to have a gem quality stone of this size.
Buckingham Palace is putting on a display of the Queen's personal diamond jewellery this summer, including all seven smaller cuts from the Cullinan diamond, and some spectacular tiaras. Full details here.