I know, I know.
Downton Abbey finished last night here in the US, ending on a spectacular high with a Christmas special which almost made up for the sheer ridiculousness of most of the preceding season, and you, as I know from my sobbing Twitter feed, are suffering from terrible withdrawal symptoms already.
Believe me I do understand, having mysteriously managed to watch the entire season last year *taps nose*. 
But fear not, for I bring you solace in your hour of need, in the form of these utterly awesome paper dolls from Vulture.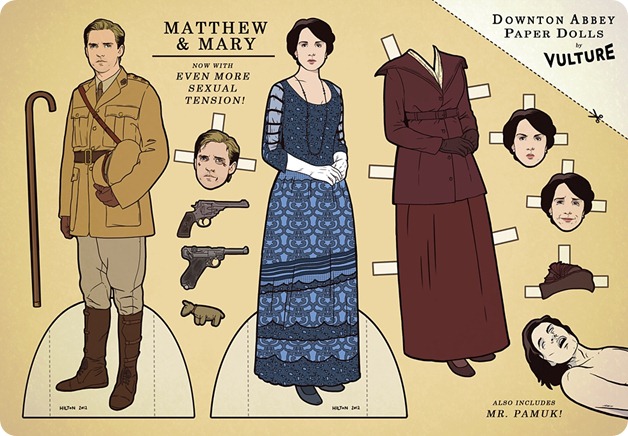 Re-enact Matthew and Mary's 'will they, won't they?' romance, complete with the hovering spectre of dead Mr. Pamuk.
Marvel as Thomas and O'Brien engage in deeds of ever-increasing evilness for no fully explained reason, just because they can.
Help the Dowager Countess run the full gamut of emotions from irritation to disdain, all while sabotaging Cousin Isobel at the village flower show.
And don't forget to send all the plot ideas you come up with to writer and producer Julian Fellowes, since on the basis of this season, he really could do with some help in that direction.
If you're also missing the fabulous costumes and sets, here's the post I wrote about Highclere Castle during season one.