Since living here I've learned how fanatical Americans are about their pies. 
In Britain a pie is a homely thing, most often made with apples, with a soft filling and a thin, light, crumbly crust. 
As in so many other things, an American pie is an altogether less delicate and more robust affair. The piecrust is generally thicker, crunchier, and baked to a deeper golden hue with a chunkier filling. Aside from apples, a whole cornucopia of different fruits is used, particularly here in the Pacific Northwest, with its fabulous stone fruits and soft fruits.  I remember watching Twin Peaks (which, incidentally, was set in the mountains close to Seattle) back in the day and being bemused that such a thing as cherry pie even existed.  It seemed so much more exotic and truly American than apple pie, which to me was just my British father's favourite dessert and had no American connotations at all.
After finding out that I had a hitherto undiscovered talent for pie-making, I was determined to broaden my horizons further and take a pie-making class so as to learn how to make a classic American pie. Fortunately Seattle is home to one of America's top pie gurus, Kate McDermott of Art of the Pie, so I added her class to my 101 Things List and two Saturdays ago, off I went.
The classes are held in the kitchen of her West Seattle home, where Kate first demonstrates her techniques and then you get to make your own pie to take home.
Kate first made her pastry. Her recipe is here and in all honesty, it's not that different from the recipe I used for my Bramley Apple Pie.
Kate too is a fan of using pure leaf lard and European butter.  She gets her lard sent mail order from Pennsylvania – when I told her that you could get 100% pure lard in the chiller cabinet in any British supermarket, she nearly wept.  She specifies using King Arthur Flour, which she keeps in the freezer. Apparently this has a higher protein content than most flours, similar to Italian doppio-zero flour in Europe.
Kate's not a great believer in strict measuring.  She doesn't use scales, but instead pretty thrifted teacups and roughly-measured tablespoons. For her it's all about the texture.
The big revelation for me was her method of rubbing in.  I've been making pastry on and off since I was tiny and used to help my mother and have always assiduously rubbed all the fat in until the mixture resembled tiny breadcrumbs. Instead Kate prefers to rub the fat in a little less so that you have mixture of crumb sizes – some like sand or cornmeal, others like chopped nuts, some the size of peas.
It seemed strange to see the finished pastry streaked with fat, but it's the fat which gives her crust its mouthwatering flakiness and crispness.
While Kate's pastry was resting in the fridge, we set to making our pie fillings. In January Kate uses high quality frozen fruits instead of fresh. I decided to unleash my inner Kyle Maclachlan and make a traditional American cherry pie.
To make Kate's cherry filling you just add plenty of sugar and the merest hint of nutmeg and lemon juice to frozen pie cherries and then stir in a third of a cup of flour and a little quick cooking tapioca to absorb the juices. I am thinking of experimenting with adding ground almonds instead, but that will be for my next pie.
I also generally have a lot of trouble rolling out my pastry. Kate showed us how to give it a couple of hard thwacks with her sturdy 'French pin' to show it who was boss
and then roll it out using a pendulum-type motion.  I loved using her old-fashioned rolling pin, which is hand crafted from solid maple by Vic Firth Gourmet in Maine. Apparently he used to be timpanist with the Boston Symphony Orchestra before moving first into drumstick manufacture and then into rolling pins. Stories like this please me greatly and I have since bought one of my own. They're available on Amazon.
Kate then filled her pie – a blackberry one – dotted the top butter and then showed us how to craft a lattice top
And here is my cherry pie.  I'm assuming you can imagine how proud I was of this.  Also I really want the little thrifted pot Kate uses for her eggwhite and water wash.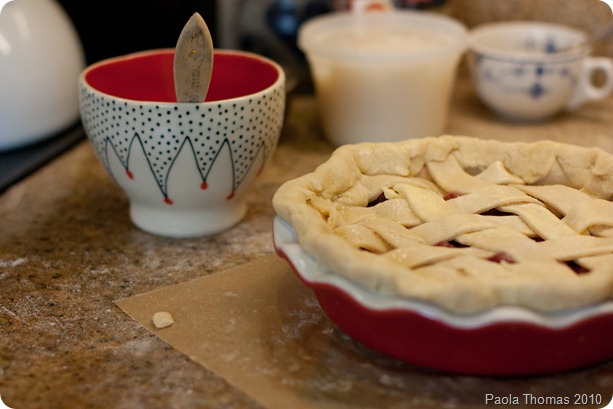 T
Then all our pies went into the oven and we spent the rest of the afternoon drinking champagne and eating Kate's utterly delicious rhubarb pie, talking about pie, and reading about pie.
I think this almost qualifies me to be an honorary American.
More photos here.