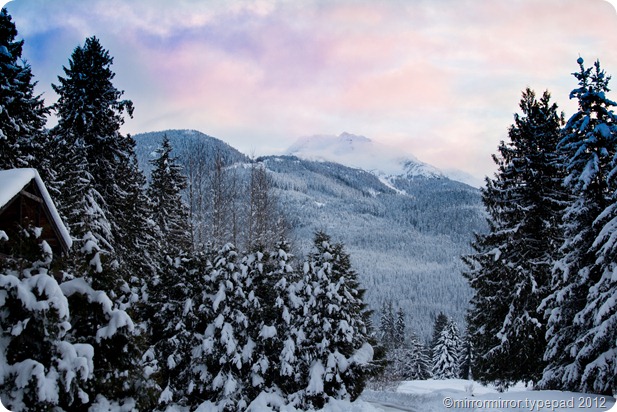 Good morning dear hearts and a happy new year to you all. I am BACK. Thank you so much for all your good wishes and butt repair tips here, on Facebook and via email. This thing has been a complete BITCH but I've got it down to mild sciatica in the morning and a sort of bruised feeling in my bum at all other times, so definitely making progress. I can also sit which is a Christmas miracle in and of itself.
In case others think they might have the same problem I'll be writing a post in the near future about all the treatments I did and how they did or did not help.
I hope you all had a wonderful holiday season in the meantime. We made our annual trek to Whistler, wherein I pack the Husband and the Minx off skiing and then take myself off on snowy walks with my camera and my thoughts. This year we had plenty of snow and plenty of sunshine and it was quite breathtakingly beautiful.
One thing I did in Whistler was to read This Year I Will… which is full of tips and tricks for actually sticking to New Year's resolutions. One tip that is resonating hugely with me at the moment is to concentrate the mind and give the year a title.
So for me this year is going to be The Year of Getting Organised, The Year of Photography, and The Year of Getting Fit. I like the idea of not making specific resolutions, but instead choosing areas of focus and attention. That way I can accommodate my butterfly mind by doing lots of different things in a certain category and not have to beat myself up if I fail to keep specific resolutions.
Have you made any resolutions for 2013? What will be your areas of focus? Do you think I'll actually manage to tidy my desk this year?