Please welcome Sandra from Raincoast Cottage to the blog. She's a Vancouverite who recently moved back there from Toronto, so who better to tell us of some of the great new places she's found in her old home town. I'm also shamed that she has made more progress doing up her cottage since she moved in six months ago, than we've made in this house in over five years. Check out her cottage on her blog. It's lovely.
Five favourite spots that is! Welcome to my city – my old home town. You see, I lived out east for ten years and only returned to Vancouver late last summer. So there's been more than a bit of exploring happening around here as I discover my new favourite places to shop and eat. And I am happy to share five of them with you.
When I left Vancouver, the neighbourhood just east of Gastown was a bit sketchy. More than a bit sketchy. So sketchy that you could never begin to imagine any gentrification. But it has. It still has its edginess – but that gives it its charm. And this is where we will start on our tour of my five favourite places.
Nelson the Seagull
You are in the Pacific Northwest so the very first stop is going to be for a coffee. How could it not be? And not just any coffee – one from Nelson the Seagull. They know how to pull shots. And although they do have a yummy menu (let's come back for lunch), once we have our coffees, we're going to step out and walk down to Cartem's Donuterie.
Cartem's Donuterie
To go with your coffee, do I have a treat for you. And it's less than a block away. It's a tiny, tiny place making THE best handmade donuts from only locally sourced, organic ingredients. I know, you think that you have had good donuts, that you know all about them. How can they get any better? Well, they can. And they are.
What about some of these flavours – Earl Grey, maple topped with bacon (and some Bourbon too!), carrot cake, even vegan options. And they even deliver but only downtown – it's by bike so they stay on this side of the bridges.
Now that we are fed and watered, how about a visit to The Old Faithful Shop?
The Old Faithful Shop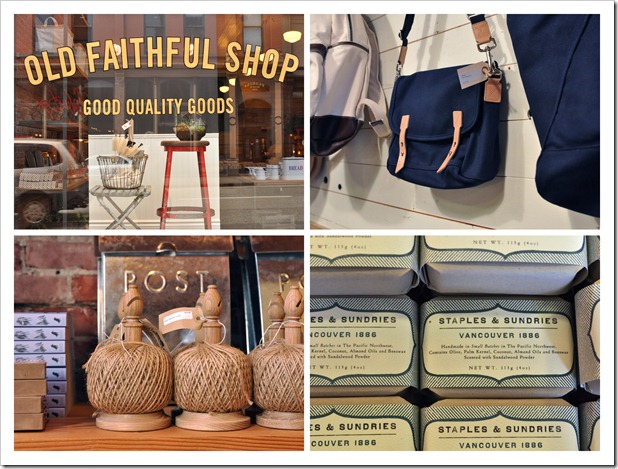 I know that "well curated" is such an overused phrase now but I can't think of a better way to describe the goods that the Old Faithful Shop carry. Savannah, one of the owners, is originally from the Canadian prairies – her friendly personality is a dead giveaway. She and her partner Walter stock all sorts of goods from all over the world that are well made and unique. You can shop online too!
Urban Source
Feeling inspired to make something? Want something a little different than your usual art supply store? Let's scoot over to Urban Source. For over 15 years, Urban Source has been the place to go for alternative art materials. It's not a big place but it is full from top to bottom with bins of materials collected from over 100 local businesses. Most of it you buy by the paper bag. Grab the size you want and start filling it up. And then when you get home, start making some art.
Metropolitan Home
A trip to Vancouver would not be complete without some vintage furniture shopping. For our last stop we'll visit Metropolitan Home for a dose of mid-century modern furniture. Located in the Armoury District near 2nd and Fir, there's lots to catch your eye – both in furniture and decor. I have that table lamp and there is a floor version too.
Thanks for joining me to visit five of my favourite places in Vancouver! And visit me at www.raincoastcottage.com where I write about living a creative life.