There's quite a lot of self-reinvention going on around here.  I've lost 26lbs and counting since June 1st on the deadly but effective Dukan diet and am the thinnest I've been for about eight years (and yes, I will blog about it early next week).
This time I'm determined to see this thing through to the end, and as a result am holding off on buying too many new clothes as I'd still like to lose another 16-20 lbs. Instead I had to find another way to up the glamour factor round these parts – I'm feeling better about myself than I have in a LOOOOOONNNNNNGGGGG time – and give myself a bit of a reward.  And this treat fits whatever size you are.
I've been a fan of Julep ever since entrepreneur Jane Park opened her first salon about ten minutes from my house. They now have a presence throughout Greater Seattle and have launched their line of nail polishes online throughout the US.  These are beautiful polishes in glorious colours with lots of seasonal changes, all named after Hollywood stars.  I'm shallow enough that I find this occasionally problematic – I don't care what colour it is, I am not wearing 'Keira' or 'Gwyneth'.
They've also launched a monthly subscription service called Julep Maven.  You do a fun quiz to find out your style and they email you every month with personalised colour selections.  You can choose whether to take the colours, request another 'shelf pull', have the box sent to a friend as a present or just skip the box altogether.  And for around $20 a month, they guarantee at least $40 of product, including two nail polishes in either new seasonal colours or cult favourites, together with other hand care products.  Shipping is free and you also get 20% of other products on the website.
The quiz decided that I was an 'American Beauty', somewhat amusing as I'm neither leggy, nor blonde, nor even American, and the website said they'd be sending me 'Alfre' – a cool dusty lilac and 'Carrie',  a useful innocuous pink.  Since I have no idea who 'Alfre' is, and since I still have some residual affection for 'Carrie', despite SATC2, I thought these sounded good.
Everything arrived beautifully packaged, with a letter from the owner. As well as the two polishes, I received a bottle of Nail Therapy nail strengthener (which has been GREAT for my brittle nails), a full size 3 oz glycolic hand scrub and a couple of little samples.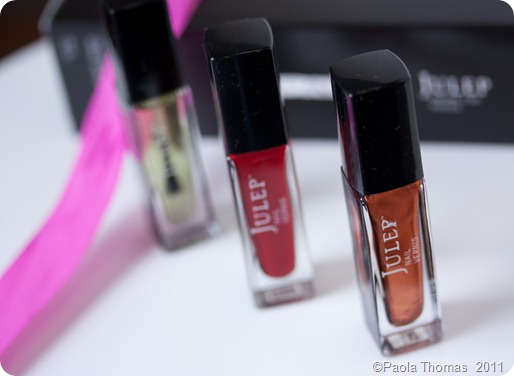 The only problem was that they weren't the right two polishes.  I'd been sent 'Zoe', a gorgeous autumnal copper and 'Molly' a true red, which isn't really me.
I emailed instantly to inquire after the whereabouts of cool and beautiful Alfre, to be told that I'd signed up just as the monthly colours were changing. However they did offer to send Alfre to me free of charge, which was rather nice of them.  So here are my three ladies (plus nail protector) in all their glory.
Here I am modelling Zoe and wishing that I wasn't such a f*cking amateur when it comes to giving myself a manicure.  I love her as she is glamorous, yet neutral and seasonal, and not a colour that I would necessarily have picked out for myself, which is sort of the point of doing this sort of thing.
I find myself strangely excited to see what colours are in my next box (I'm such a sucker for good marketing).  If you live in the US and want to give yourselves a little monthly treat then here's where you can sign up.
(FULL DISCLOSURE: I get $15 in store credit if you sign up through the link above.  However, as usual I haven't been paid for this review, nor have I been sent free stuff, it's something I decided to do for me).