I bet all of you already know how to assemble a lasagne and this post will be a like teaching my nonna to suck eggs (ha ha!) but here it is for completeness' sake.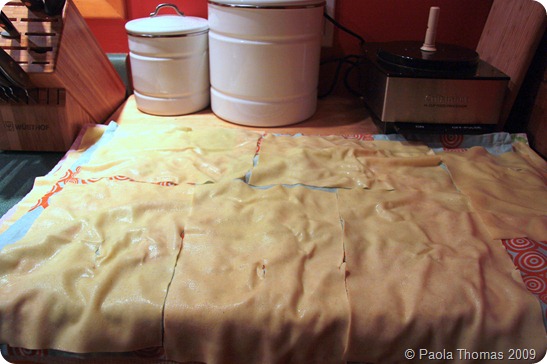 First up, I always pre-cook the lasagne. I know you can get the ones which you just layer in with your sauces, but I personally can never get those to be quite the right consistency. Here are some lovely fresh lasagne sheets which have been dipped in boiling water until they're the texture of slippery silk handkerchiefs. I was making a ton here, so I ended up layering the pasta sheets between clean tea towels (you can just see the bottom layer on the left).  By the way, this fabulous teatowel by Tikoli is available from mirrormirror.
Next, I spread a little of the meat ragu over the bottom of my roasting dish and then start layering. First a layer of pasta, then meat sauce, then bechamel and then a couple of handfuls of grated Parmesan cheese (yep, there is cheese in there somewhere). Rinse and repeat four or five times until you've used up all your pasta.
My final layer is usually mostly Bechamel, with a bit of meat sauce swirled in for colour and a couple more handfuls of Parmesan cheese.  I then bake in the oven for around an hour at 180 degrees Celsius/350 degrees Fahrenheit.
Serve with plenty of red wine and think of my grandma, who probably learned this from her grandma before her. I love the way that cooking provides such a connection with previous family generations.