I know, another one.
But I made the mistake this morning of flicking through a Maison Cote Sud which was lying around the house, which immediately made me long for the South of France in all its decadent beauty.  And if you could see how grey and wet and utterly MISERABLE the weather in Seattle is today you would understand why that was a mistake.
Parisian architect and designer India Mahdavi has recently completely the renovation of the iconic 80-year old Monte Carlo Beach.
I love how she has tipped her hat to the hotel's heyday in the Thirties and kept it firmly rooted in  Provence and the Mediterranean, but made it resolutely modern in feel at the same time.  Very, very clever.
That chair just sums it up really – 30s shape, beachy materials = something new and fresh.  And that boat in the distance is just perfect somehow. As are the icy glasses on the table.
I want that lamp. Badly.
I like how the lamp echoes the one above and how the prints – which are graphic and modern, but somehow deeply Provencal – work with the walls and lampshade. And the Matisse-like sketch on the wall and the 1930s B/W prints everywhere are cool touches.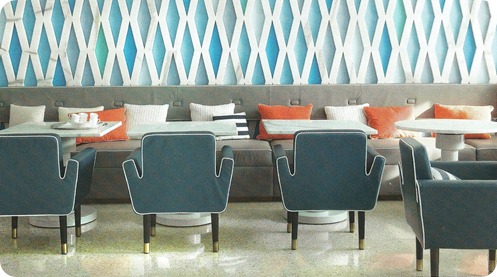 All images from Maison Cote Sud and the hotel's website.